Posting a classified is always 100% FREE. Includes 4 free pictures!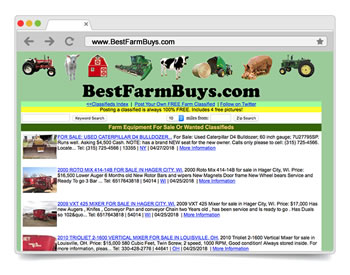 BestFarmBuys.com - Launched in 1999, as one of the first FREE Online Classified Ads website for the BUYING & SELLING of NEW or USED Farm Equipment & Ag-related items.
Sell as much as your want! There's no listing charges to create new ads or fees once it sells. Ads run for 90 days and includes up to 4 photos with each ad.

BUY & SELL Your NEW or USED Farm Equipment & Agriculture Machinery
ALWAYS 100% FREE TO LIST & SELL!
BUY DIRECTLY FROM PRIVATE SELLERS!
Owned by the publishers of FARM SHOW Magazine and supported by display ads that run on the site. If you have an Ag-related item to sell that is an antique or a collectible display piece, we recommend using our "sister" site, AntiqueFarmEquipment.com.
---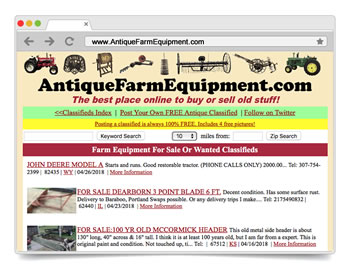 FREE Online Classifieds to BUY & SELL Antique Farm Equipment, Vintage Machinery & Rustic Collectibles! AntiqueFarmEquipment.com - Launched in 2006, our site was the first Free Online Classifieds / Want Ads website geared exclusively to the BUYING and SELLING of Antique Farm Equipment, Collectible Barn-Finds & other Ag-related rusty gold.
Sell as much as your want! There's no listing charges to create new ads or fees once it sells. Ads run for 90 days and includes up to 4 photos with each ad. Machinery & farm equipment advertised on this site must be antique or concidered a vintage collectible.
NO CHARGES OR FEES TO SELL OR BUY!
ADS RUN FOR 90 DAYS WITH UP TO 4 IMAGES!
Owned by the publishers of FARM SHOW Magazine and supported by display ads that run on the site.
Goto AntiqueFarmEquipment.com >>

---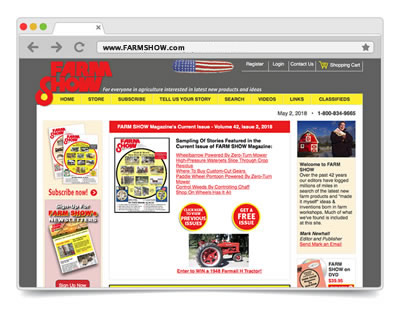 FARM SHOW MAGAZINE For over 42 years, FARM SHOW Magazine has been focusing on "Made It Myself" farm inventions born in work shops & barns, as well as the latest new commercial agricultural products & farming technologies. Our editors travel to all the big farm shows in the U.S., Canada, and around the world to find new ideas and inventions which we deliver to readers in each bi-monthly issue. We also publish many ideas sent to us by readers.
Since we don't carry any advertising in FARM SHOW, we depend on subscriptions for all of our support. That's very different from most other farm magazines, which are totally advertising supported, and full of ads on every page. If you farm enough land, those magazines are probably already being sent to you free of charge. Since FARM SHOW charges for subscriptions, we work very hard to find stories that are useful to readers.
Subscribe Today for ONLY $23.95! You'll also receive a FREE book and gain full-access to our vast archive with over 25,000 articles from the past 42 years of back issues!
Subscribe | Gift Subscription | Request a FREE Issue | Books, DVDs & Encyclopedias